Welcome back to the NY Energy Week Blog! 2017 is set to be an exciting year. Developments in technology, the advance of climate change and political transitions make the future of energy uncertain and intriguing. Over the next few months, we'll be introducing some storylines worth following in 2017. The topics featured will vary from technological changes to business and political developments that have the potential to disrupt the world's energy balance.
High Voltage Direct Current (HVDC): Redrawing the Grid
By: Hudson Kuras
The first storyline to watch is the implementation of improving HVDC technology. HVDC cables connect two alternating current (AC) networks and new projects are poised to begin sprouting up across the world. The cables can transport power over larger distances at higher efficiencies than traditional AC systems can. As voltage increases, so does efficiency and capacity.  This efficiency over large distances is a game-changer for renewable energy. It has the potential to accelerate the integration of renewables into electricity production because distance will no longer preclude prime locations for wind, solar and hydro generation from connecting to a grid. Picture a wind farm in Indiana delivering 3,000MW to New York or a solar array in New Mexico meeting peak demand during a heat wave in Los Angeles.
China is the HVDC leader with the highest number of cables in use and the most projects underway. Their 1,200-mile line from the Xiangjiaba Dam to Shanghai with a capacity of 6,400MW has inspired India and Brazil to begin planning HVDC lines that transmit distant hydropower to the densely populated Uttar Pradesh and Rio de Janeiro. The US is also in the mix. Clean Line Energy Partners is awaiting final approvals to begin construction on the Plains and Eastern Clean Line project that will transmit wind power from Oklahoma to the southeastern US. The project will be the most advanced and highest voltage (600kv) installation in the US. It will span 700 miles and has capacity of 4,000MW. This particular project is also among a list, released by the Kansas City Star, of  50 infrastructure projects designated by the Trump Administration as "high priority" meaning their environmental review processes will be expedited. Numerous other renewable energy projects including hydroelectric upgrades and energy storage facilities received this designation. It will be interesting to watch the intertwined fates of the Trump Infrastructure plans and the progress of many alternative energy infrastructure projects.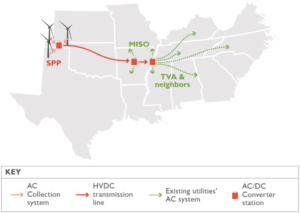 Sketch of Plains and Eastern Clean Line Project Plan. Courtesy of Clean Line Energy Partners
What challenges lie ahead for HVDC? The largest obstacle for HVDC projects in the US is politics. A project must appease the hundreds of property owners and communities that the cable passes through. This is especially difficult because the transported electricity is not intended for the communities through which it passes. The Eastern Clean Line project has come up against this issue and has worked with the DOE to bypass some state level approvals. As HVDC expands, so do the opportunities for renewable energy. Let's watch the development of HVDC projects in China, the progress of the Eastern Line and any new plans for HVDC that are announced throughout the world.
___
Want to add something about HVDC? Do you have concerns about the technology? Are there future topics you'd like to see a post about? Contact me: hk@nyenergyweek.com

Hudson Kuras is the New York Energy Week 2017 Fellow. He graduated from Columbia University in February 2017 with a Bachelor's of Arts in Sustainable Development concentrating on energy and resources. He has worked as a Summer Analyst at Brown Brothers Harriman & Co. and as a non-profit Consultant with Columbia's Earth Institute.