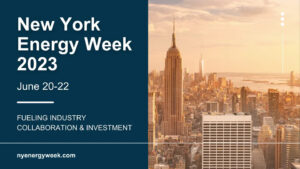 EnerKnol is proud to present the preeminent energy industry event, New York Energy Week 2023 (NYEW), As reported by Yahoo Finance,NYEW will taking place from June 20 to June 22, 2023. 
This groundbreaking week-long event series is designed "by the industry, for the industry," and offers both physical and virtual locations to ensure energy professionals can engage, collaborate, and network, regardless of their geographical location. 
With a diverse range of events covering critical topics such as renewable energy, energy storage, grid modernization, clean technology, and energy policy, NYEW aims to foster dialogue, collaboration, and innovation among energy stakeholders worldwide. 
This year's hybrid event will enable EnerKnol to connect with a broader audience and have a more significant impact on the energy industry. NYEW 2023 offers a unique opportunity for energy stakeholders to engage with leaders, learn about the latest innovations, and discuss the challenges and opportunities facing the global energy landscape. 
This collaborative event serves as a platform for professionals across the energy spectrum to share ideas, forge new partnerships, and work together to create a more sustainable, efficient, and interconnected energy future.
Registration is now open to attend NYEW with a limited number of seats available. Visit nyenergyweek.com and secure your spot today with an all-access pass!
All news and content distribution in partnership with News Direct.
About EnerKnol
EnerKnol is a leading provider of energy policy data and analytics, connecting decision-makers to actionable insights on federal, state, and local energy markets. EnerKnol's mission is to drive transparency and efficiency in the energy industry by creating innovative solutions that empower market participants with the data and insights they need to navigate today's complex energy landscape. EnerKnol
About 1BusinessWorld
1BusinessWorld is a global business ecosystem, network and marketplace that provides entrepreneurs, business owners and professionals with the information, tools, resources and connectivity needed to succeed throughout their company's growth journey, toward a better business world. Our vision is based on the reality that we live, work and do business in one global interconnected business environment, and hence our motto: "One World, One Business World". Our mission is to encourage and support global communication and collaboration among entrepreneurs, professionals, and businesses. 1BusinessWorld
Contact Details
Media Enquiries
+1 212-220-6677
info@1businessworld.com
Company Website
View source version on newsdirect.com: https://newsdirect.com/news/discover-the-future-of-energy-at-new-york-energy-week-2023-325616926
[1] Yahoo Finance. (2023, March 23). EnerKnol Announces New York Energy Week 2023, the Preeminent Energy Industry Event. Discover the Future of Energy at New York Energy Week 2023 (yahoo.com)