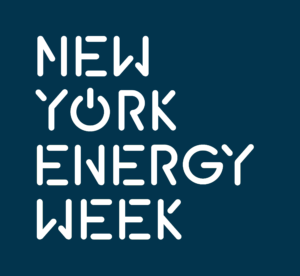 New York Energy Week 2019 to Establish the Energy Ecosystem of the Future at this year's pinnacle event series for the energy industry, happening June 24-28, 2019.
NEW YORK, NY – May 17, 2019 — 
New York Energy Week announces that its sixth annual citywide event series produced for the energy industry, by the energy industry will take place June 24 – 28, 2019.   A week of events focusing on key innovations, momentum and challenges that fuel industry collaboration and investment organized around our theme of the Energy Ecosystem of the Future.  Join us for this year's New York Energy Week, which marks the sixth anniversary of uniting the global energy community in New York City.
Created in 2013,  New York Energy Week fulfils the vision to drive markets forward through cross-sector collaboration among the diverse energy industry.  Bringing keynotes by industry executives to information-rich breakout sessions, New York Energy Week delivers dynamic personal and professional growth opportunities, and a forum for networking and engagement with leaders from organizations representing diverse industries within the U.S. energy ecosystem, and from around the world.
New York Energy Week 2019 will explore:
NY REV: Leading the Nation's Energy Future

NY Energy Data Jam

Energy Storage: The Holy Grail of the Power Sector

Addressing Energy Challenges at the Global Scale: Government and Industry Perspectives

Disruptors of the Energy Industry
"New York Energy Week offers a unique opportunity to unite the energy community, not only in New York but globally," commented Shihab Kuran, NYEW Board Member and CEO of Power Edison.  "This year we are excited to bring together top industry and government leaders who are championing key projects for a sustainable energy future," Kuran said.
Click to Tweet: @NYEnergyWeek 2019 to Establish the Energy Ecosystem of the Future.
Get Involved: http://nyenergyweek.com #NYEW2019
Breaking Down Silos of the Energy Industry

New York Energy Week is a unique and high-profile platform within the diverse and historically siloed energy industry to promote communication, enable collaboration, and fuel growth. Composed of industry-hosted events all around New York City, New York Energy Week's distributed hosting model equips leaders and innovators to explore challenges and opportunities confronting the energy sector today.  Participants will also connect with potential clients, customers, partners, and employers in energy, government, research, and other segments of the community—all in attendance for the same purpose: to be part of something that matters, striving to transform the energy industry.
As an epicenter of global commerce and finance, as well as a model of energy policy innovation, New York City is an ideal venue to bring together major energy industry stakeholders including the US Department of Energy, Con Edison, National Grid, the United States Energy Association, New York Green Bank, and New York Power Authority, among others.

For more information on speaking, hosting, and sponsorship opportunities at New York Energy Week 2019, visit NYEnergyWeek.com.

New York Energy Week is a "By the Industry, For the Industry" initiative launched to foster collaboration and investment in New York's rapidly growing energy economy. Energy policy data and analytics company, EnerKnol, Inc., created the annual event series in 2013 as part of its founding mission to fuel industry advancement through information access – bridging the diverse, and often fragmented energy industry. New York Energy Week is made possible by its supporting sponsors and leaders.
Follow New York Energy Week on Twitter: @NYEnergyWeek and #NYEW2019

Media Contact: Rona Banai, New York Energy Week, 212-537-4425, press@nyenergyweek.com