New York Energy Week (NYEW) is the annual event that brings together industry leaders, policymakers, innovators, investors, and other stakeholders to explore and discuss the latest trends and developments in the energy sector. It's the only week-long event series in New York made "by the industry, for the industry", inviting all energy stakeholders to come together and help drive forward our global energy economy.
NYEW was first held in 2013, and since then has grown to become the industry's most comprehensive annual event in New York. Powered by EnerKnol, the leading energy policy data & analytics software, NYEW annual events have been hosted by leading energy organizations including DLA Piper, National Grid, Con Edison, GE, and CME Group, to name a few.
The topics covered at NYEW are diverse and reflect the complex and rapidly evolving landscape of the energy sector. Previous editions have featured discussions on topics such as renewable energy, energy storage, smart grid technologies, electric vehicles, and energy efficiency, as well as policy and regulatory issues at the local, national, and international levels. NYEW 2023 will be our biggest event to date, covering all areas of energy including Utilities 2.0, Solar Financing, Energy Transmission, Demand Side Management, Oil & Gas and Women in Power, among others.
NYEW provides a unique forum for stakeholders all across the energy spectrum to connect, share ideas, and cross-collaborate on solutions to the most pressing challenges facing the industry today.
How does New York Energy Week work?
The week is composed of industry-hosted events all around New York City. Partner organizations are invited to host their events during NYEW, and gain global visibility by including their event on the NYEW platform. Sponsors host the week's official NYEW Series events.
There are many ways to participate. Sign up today to learn about Attending, Sponsoring, Hosting, or Leadership opportunities!
There are a limited number of opportunities to become a headline sponsor or partner host of the NYEW Series events. Do not miss the chance to join an exclusive global network of 2 million+ energy professionals!
Previous year participants and sponsors of New York Energy Week
New York Energy Week (NYEW) is supported by a wide range of industry partners, including major utilities, technology companies, and financial institutions. Some of the past sponsors and participants of NYEW include but are not limited to Consolidated Edison, National Grid, Shell, Siemens, BlackRock, NYSERDA, New York Power Authority, Eversource.
In the past, both the Mayor and the Governor of New York have issued proclamations in support of New York Energy Week (NYEW). 
In 2019, New York City Mayor Bill de Blasio issued a proclamation declaring June 24-28 as "New York Energy Week" in the city. Similarly, in 2018, New York State Governor Andrew Cuomo issued a proclamation in support of NYEW, citing its role in bringing together stakeholders from across the energy ecosystem to explore the latest trends and developments in the industry.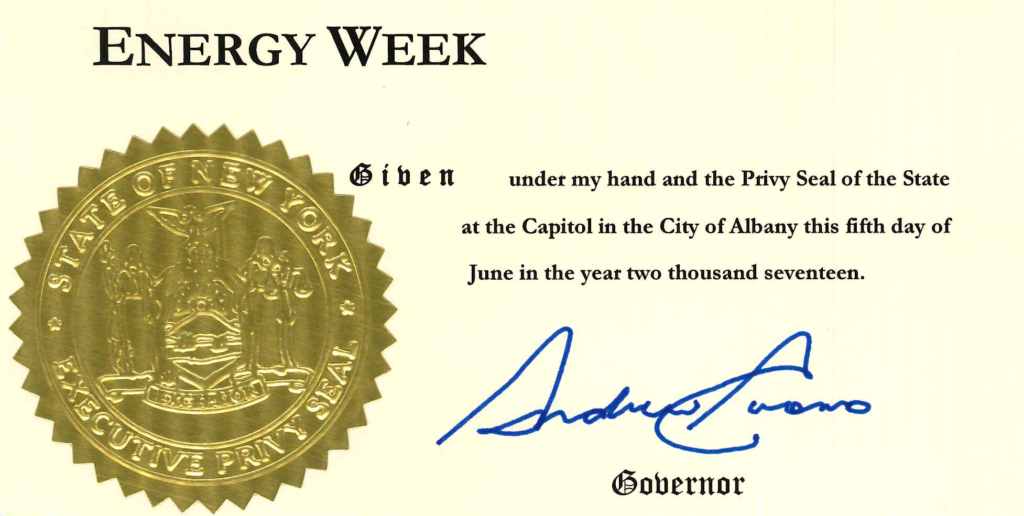 In order to get a sense of who participates and what NYEW is about, watch our one-minute testimonials video.
Official NYEW 2023 sponsors of NYEW join an influential group of industry leaders in the groundbreaking event series that now serves as a global platform driving forward collaboration and investment in energy. 
As a "for the industry, by the industry" series, New York Energy Week would not be possible without the support and leadership of all the partners involved.
Get involved today!