A Pioneering Hybrid Event Series Empowering the Global Energy Economy
EnerKnol is delighted to unveil New York Energy Week 2023 (NYEW), the leading event for the energy sector, scheduled from June 20 to June 22, 2023. This innovative week-long series, created "by the industry, for the industry," welcomes global energy stakeholders to unite in molding the future of the worldwide energy market.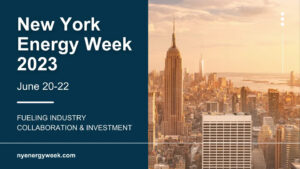 In response to the ever-changing demands of the industry, NYEW 2023 will be hosted as a hybrid event, encompassing both in-person and virtual venues. This cutting-edge format guarantees that energy professionals can engage, collaborate, and network, irrespective of their geographic location.
New York Energy Week 2023 will showcase an array of events, including panel discussions, keynote speeches, workshops, and networking opportunities. These events will address vital topics such as renewable energy, energy storage, grid modernization, clean technology, and energy policy. NYEW seeks to cultivate dialogue, collaboration, and innovation among energy stakeholders globally, featuring an exceptional lineup of industry experts, policymakers, investors, and thought leaders.
Angelique Mercurio, Founder and CEO of EnerKnol, commented, "New York Energy Week has always been a catalyst for driving forward the global energy economy. This year, we are excited to take it to the next level with our hybrid event, which will enable us to connect with a broader audience and have a more significant impact on the energy industry."
NYEW 2023 offers a distinct opportunity for energy stakeholders to engage with leaders, discover the latest innovations, and discuss the challenges and prospects facing the global energy landscape. This collaborative event provides a platform for professionals across the energy spectrum to exchange ideas, establish new partnerships, and cooperate to build a more sustainable, efficient, and interconnected energy future.
This article was released by Associated Press, IoA News, and Yahoo, highlighting the significance and impact of New York Energy Week 2023 on the global energy industry.
To learn more about New York Energy Week 2023, register for events, or explore sponsorship opportunities, please visit www.nyenergyweek.com.
All news and content distribution in partnership with News Direct.
About EnerKnol
EnerKnol is a leading provider of energy policy data and analytics, connecting decision-makers to actionable insights on federal, state, and local energy markets. EnerKnol's mission is to drive transparency and efficiency in the energy industry by creating innovative solutions that empower market participants with the data and insights they need to navigate today's complex energy landscape. EnerKnol
About 1BusinessWorld
1BusinessWorld is a global business ecosystem, network and marketplace that provides entrepreneurs, business owners and professionals with the information, tools, resources and connectivity needed to succeed throughout their company's growth journey, toward a better business world. Our vision is based on the reality that we live, work and do business in one global interconnected business environment, and hence our motto: "One World, One Business World". Our mission is to encourage and support global communication and collaboration among entrepreneurs, professionals, and businesses. 1BusinessWorld
Contact Details
Media Enquiries
+1 212-220-6677
info@1businessworld.com
Company Website
View source version on newsdirect.com: https://newsdirect.com/news/discover-the-future-of-energy-at-new-york-energy-week-2023-325616926
[1] AoI.News. (2023, April 6). EnerKnol Announces New York Energy Week 2023: A Pioneering Event for the Global Energy Industry. AoI.News. Discover the Future of Energy at New York Energy Week 2023 (aol.com)