As electric vehicle ownership is steadily growing in the U.S.,there is an increasing need for a robust EV charging infrastructure throughout the country. One of the main reasons conventional fossil fuel-based vehicles are more competitive is a more extensive refueling infrastructure that is more convenient for long-haul trips. One of the biggest climate incentives from President Biden's administration is to build a large-scale network of 500,000 EV chargers along America's highways. Ultimately, the goal is to ensure that 50% of car sales in 2030 are EVs.

Incentives to expand EV charging infrastructure in the U.S.
The Biden administration's strategy towards encouraging EVs will not only encourage EV purchases among customers, but also make U.S. manufacturing of EVs and components more competitive. 
President Biden's Bipartisan Infrastructure Law has set aside significant funding to help improve the U.S.'s EV infrastructure. This includes:
$7.5 billion in EV charging

$10 billion for clean transport

$7 billion for EV battery components and critical materials
These incentives will supplement those included in the Inflation Reduction Act (IRA). The IRA contains several , such as developing advanced batteries and tax credits for purchasing EVs.
Due to the Biden administration's efforts, EV sales have tripled and the number of publicly available charging ports has grown by at least 40%. 
Currently, there is a National Charging Experience Consortium (also called the ChargeX Consortium), a consortium of stakeholders throughout the EV charging industry, which seeks to make EV charging more accessible and reliable by 2025. Spearheaded by the Argonne National Laboratory, Idaho National Laboratory, National Renewable Energy Laboratory, it also includes multiple companies specializing in EV charging solutions. This includes Chargepoint, Electrify America, FLO, EV Connect. It also includes other stakeholders in the automotive and utility sectors such as the New York Power Authority, Ford, Toyota, and GM.
Importance of cross-collaboration between different stakeholders
Such consortiums, which includes various stakeholders within an industry, are pivotal to solving technical and economic challenges in meeting climate targets. It requires collaboration from people and organizations across the board, both from state entities and private enterprises. Cross-collaboration with different stakeholders will ensure more well-rounded solutions that are inclusive of different perspectives.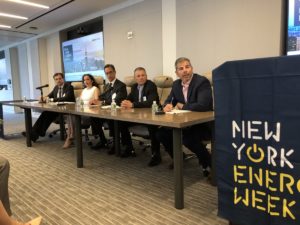 New York Energy Week, which will run from June 20th to 23rd, brings together industry experts within the energy industry, to discuss the future of energy in the state of New York. It will include workshops, keynote speeches, workshops and networking that focus on emerging energy challenges. Some topics that would be covered include: renewable energy, energy storage and grid modernization, and energy policy.