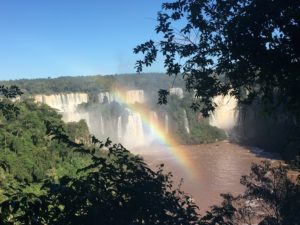 By PADMA EDIRISINGHE
My heart was comforting… My mind was relaxing… by spectacular view of Iguaçu falls in both Argentinian side and Brazilian side of the falls. The power of the nature and its value to the humanity was witnessed. Massive water of the Iguacu falls running through those two countries by contributing and balancing the eco system of the world. I have no words to portray the elegance of lady Iguacu, her journey and her voice of power: not just bare power but hydraulic power.
So, I knew lady Iguacu must have already contributed to the energy needs of its surrounding countries. Itaipu Hydroelectric Dam is the largest operational hydroelectric energy producer in the world, with an installed generation capacity of 14GW. The plant is operated by Itaipu Binacional and located on the border between Brazil and Paraguay. Energy generated by Itaipu helps meet demands from the two countries.
Power generated by Itaipu is distributed through an interconnected system. The system is connected from Brazilian substation Foz do Iguaçu.
Itaipu Dam
Latin America hosts some of the world's most dynamic renewable energy markets, building on the historical role of hydropower – the cornerstone of the region's power sector development – and liquid biofuels, driven by Brazil's early determination to diversify its transport fuel mix.
The imperative to decarbonise, together with national energy security concerns, in the context of rapidly falling costs of non-hydropower renewables, provides a compelling case for broader renewable energy development in Latin America.
Investment trends attest to the rapid evolution of the region's energy mix towards a more diversified set of technologies and countries. For the first time in 2015, in addition to Brazil, both Mexico and Chile joined the list of the top 10 largest renewable energy markets globally.
This is a good use case of keeping the beauty and using the power of Iguaçu, for Electricity ingathering. Appearance of Rainbow in the Iguaçu symbolized the diversity of its nature.
Source: IREANA and RIO news