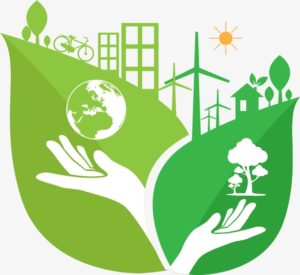 By Padma Edirisinghe
It is a fact that climate change and the production of energy from fossil fuels are closely correlated. It begs a new energy model, which reduces CO2 emissions. Though climate change is a challenge, it gives us an opportunity to explore true sustainable development, promote renewable energy, encourage genuine development and reduce external dependence. Cheap energy drives economic growth. Polluter pays the carbon tax. Yet, How and why has overall cost come down? How integrate software with peer-to-peer business model?
"The world has warmed over the last 150 years, especially over the last six decades, and that warming has triggered many other changes to Earth's climate. Evidence for a changing climate abounds, from the top of the atmosphere to the depths of the oceans. Thousands of studies conducted by tens of thousands of scientists around the world have documented changes in surface, atmospheric, and oceanic temperatures; melting glaciers; disappearing snow cover; shrinking sea ice; rising sea level; and an increase in atmospheric water vapor. Rainfall patterns and storms are changing, and the occurrence of droughts is shifting" Source: CSSR
Sources of Clean Energy:
Renewable energy: Unlimited resources. Nearly zero pollution. Renewable energy generates electricity from sustainable sources like wind, solar, and geothermal power with little or no pollution or global warming emissions.
Renewable energy is reliable, affordable, and beneficial for our health, our economy, and our climate.
Why Clean and Renewable Energy?
Reduce air pollution.
Cut global warming emissions.
Create new jobs and industries.
Diversify our power supply.
Decrease dependence on coal and other fossil fuels.
Move America and world toward a cleaner, healthier energy future
Opportunities to create Energy Jobs in NY and worldwide:
"Global commitments to reduce carbon emissions have created the "mother of all markets" for carbon-free power sources, and global advanced energy industry revenue is projected to grow to nearly $2.2 trillion by 2025.
With this market growth comes millions of jobs. Advanced energy technologies have long value chains, from research labs and raw materials providers, to manufacturers, project developers, installers, logistics companies, and many more. Over 10 million people were employed in the global advanced energy industry in 2017 from all backgrounds, disciplines, and skill levels, and market growth could support 24 million jobs by 2030" Source: American Jobs Project
Progress towards Carbon free Energy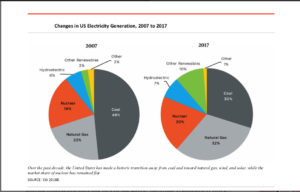 Country Aspiration for Energy Alteration:
The renewable energy mix will change significantly over the coming times.
 The mix today includes significant use of old-fashioned bioenergy; in the future, the mix will increasingly be dominated by renewable electricity, advanced biofuels, and electrification technologies (largely utilizing renewable power), including electric vehicles and heat pumps.
Most countries foresee modest increases in renewable energy while some even forecast a decline in the share of renewable energy by 2050.
In India and Indonesia, this is explained by falls in traditional bioenergy use following the adoption of more efficient cooking stoves that use bioenergy or other fuels such as liquefied petroleum gas or kerosene
What will the world's energy picture look like in the future? To answer this question, we need to start by analyzing the world's long-term demographic and economic trends.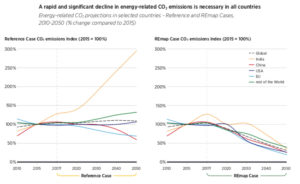 The report's analysis shows that all countries can substantially increase renewable energy as a proportion of total energy by 2050.
The REmap Case shows that every country has a different potential to add renewable energy but the potential is substantial in all cases. In countries such as Canada, India and the United States of America, projections raise the share of renewables in total final energy use to above 60%.
Along with renewable energy, energy efficiency is a key driver of reduced energy-related CO2 emissions in the energy transition. At country level, the energy intensity of GDP would fall by between 50% and 75%. Such a fall is required across all energy consuming economies.
The largest declines are required in India and China, where falls in energy intensity would bring energy intensity levels to just 20% or 25% of 2015 levels by 2050.
Action at country level is key to driving the energy evolution forward. Many
countries are advancing towards the energy transition, but despite positive steps, no country is yet on a pathway that will achieve the energy transition's goals:
Renewable energy needs to be scaled up at least six times faster for the world to start to meet the goals set out in the Paris Agreement.
Renewables, in combination with rapidly improving energy efficiency, form the cornerstone of a viable climate solution.
 Keeping the global temperature rise below 2 degrees Celsius (°C) is technically feasible
However, the global energy system must undergo a profound transformation, from one largely based on fossil fuels to one that enhances efficiency and is based on renewable energy. Such a global energy transformation – seen as the culmination of the "energy transition" that is already happening in many countries – can create a world that is more prosperous and inclusive.
Final Thoughts:
This diversification in global energy supply will grow over the next two-and-a-half decades. Society's push for lower-emission energy sources will drive substantial increases in renewables such as wind and solar. By 2040, nuclear and all renewables will be approaching 25 percent of global energy supplies.
In summary, Rising living standards for expanding populations worldwide mean a dependence on reliable modern energy. Combined, they are expected to help drive up global energy demand by about 25 percent by the year 2040. That is roughly equivalent to adding another North America and Latin America to the world's current energy demand. Thus, creating energy related jobs with utilizing all level of skills will be on the rise.
Source: IRENA report, CSSR, American Job Report