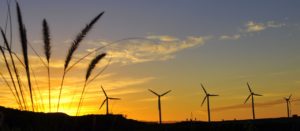 BY PADMA EDIRISINGHE
Wind Power Capacity Worldwide Reaches 600 GW,
53,9 GW added in 2018 China with more than 200 GW,
USA close to 100 GW, Europe in decline
Harnessing the wind as a source of energy started more than 7000 years ago. Now, electricity-generating wind turbines are thriving around the globe, and China, the U.S., and Germany are the leading wind energy producers. Wind power has become an important source of energy generation around the world, with global capacity reaching over 600GW in 2018. The construction of new wind power varies year to year and by region; Europe, slow growth wind capacity in 2018 compared with 2017.
Across many parts of the world, technological advances have made onshore wind the most competitive of all renewables, on par with the cheapest conventional generation. However, while its environmental credentials are exemplary, wind energy is irregular and weather-dependent and therefore tends to have lower load factor than a conventional plant. When it does run at high levels, it can swamp the market and cause price slumps, and it cannot be relied on to always be available at times of peak demand. Advances in storage and demand-side response should help accommodate more wind turbines into our supply networks, and make better use of the power they generate.
Wind Vision of US department of Energy
Level the cost of electricity reduction trajectory of 24% by 2020, 33% by 2030, and 37% by 2050 for land-based wind power technology and 22% by 2020, 43% by 2030, and 51% by 2050 for offshore wind power technology to substantially reduce or eliminate the near- and mid-term incremental costs of the study situation.
Wind Energy by country: The top 10
| | |
| --- | --- |
| Wind Energy By Country | Installed capacity by 2018 |
| China | 221 GW |
| United States | 96.4 GW |
| Germany | 59.3 GW |
| India | 35 GW |
| Spain | 23 GW |
| United Kingdom | 20.7 GW |
| France | 15.4 GW |
| Brazil | 14.5 GW |
| Canada | 12.8 GW |
| Italy | 10.1 GW |
Electricity Generation Forecast: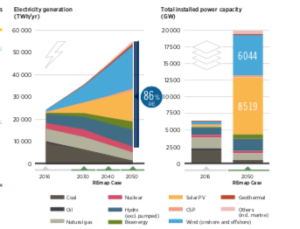 Source: IRENA
Summary:
Though wind is a natural resource, which can be utilized for electricity generation, it use is limited by the geological factors of the particular country, and also propelling power of the wind relation to that particular country. Wind energy is rapidly adopted as alternative energy resources for clean energy. Also, Emerging new technologies are contributing to Energy storage and energy distribution systems, the question is raised and remain unanswered: since wind power is so heavily depend on nature, how would windmills be protected from harsher conditions of Mother Nature?  How do we recover from such conditions pertaining to Wind power Turbines?
Source: IREANA, DOE, EIA, David Jacoby – Boston Strategies International