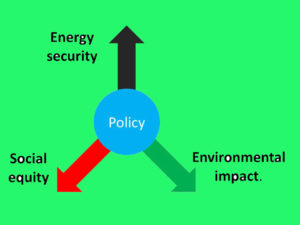 BY PADMA EDIRISINGHE
Key factors to be considered:
Resources and its abundance

Environmental impact and Sustainability

Flexibility, demand and Energy efficiency.

Renewable Energy policies in Federal and local level

R&D Spending and its impact to energy innovation

National Security and Energy independence

Volatility of the Market

Investors confidence

Educating General public
"If you develop all these low carbon technologies, and we don't have the infrastructure to deliver it to our own people, we have a problem. We have to focus also on education. This cannot be done without people. So, you know, if you have to create this new, you know, infrastructure, new technologies and we don't have the basic education amongst the people to be able to work and get employment. It's a problem. And so, I think we need to look at it holistically. And pricing on carbon, whatever the direct or indirect price on carbon, those are important issues that should be discussed. Now that it's on the table at this point."
– Arun Majudar,  Co-director of the Precourt Institute for Energy at Stanford University
Here Arun emphasizes the importance of rethinking of R&D funding and policy innovation. Innovation has remarkable impact not only for humans but for the planet too because today's discovery is tomorrow's innovation of technology.
In recent years, the world embraced remarkably clean energy advancement. Thus. I believe that untapped resources in the earth and the plant could be astonishing discoveries for the escalation of exponential growth of energy: not just energy but for clean energy. It would be break through for progress for mankind for sharing natural resources and collaborating on development and distribution. In a way volatility of energy market would be stabilized in long run. It would reinforce each other not to contest but to collaborate.
Summary:
In the situation of NYS, NYS policy and declaration of carbon free energy initiatives by year 2040 would prelude to such collaboration on energy sector. 70% electricity goes to building.  Therefore, Energy policy standards beg new building standards and improve upon it. Energy efficiency with new Energy storage seems a current trend but it could be changed as innovation in Nano technologies and other modern technologies progress towards new capacity driven storage and distribution, facilitated by the Nano electrical grids at buildings and houses. And also, it will reinforce to allocate more R&D funding for clean energy initiatives and Environment issues due to climate change issues.
Reference:  SIPA, Columbia Center for Global energy policy.