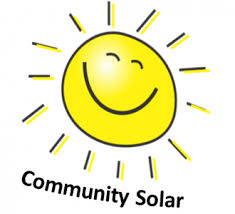 BY PADMA EDIRISINGHE
As per today, many American households and businesses do not have access to solar because they rent, live in multi-tenant buildings, have roofs that are unable to host a solar system, or experience some other mitigating factor. Community solar provides homeowners, renters, and businesses equal access to the economic and environmental benefits of solar energy generation regardless of the physical attributes or ownership of their home or business.
What is Community Solar?
A community solar project referred to as a solar garden or shared renewable energy plant is a solar power plant whose electricity is shared by more than one household.
The primary purpose of community solar is to allow members of a community the opportunity to share the benefits of solar power even if they cannot or prefer not to install solar panels on their property. Project participants benefit from the electricity generated by the community solar farm, which costs less than the price they would ordinarily pay to their utility.
What are the Benefits:
Because community solar is a relatively new concept, new groups, companies and even utilities are entering this industry and building community solar projects. Community solar's key benefits include:
• Sustainability
• Scalability
• Engagement and Impact
• Access & Affordability
Community solar offers a way for virtually anyone to go solar, without installing solar panels on their roof or their property.
Credits to mainly to Virtual Net Metering (VNM) in a growing number of states, the community solar power option is gaining steam as the primary means for those who are not in the market for rooftop solar to participate in the benefits that solar power systems offer.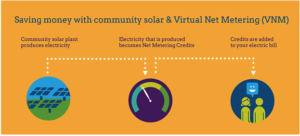 Community Solar projects offer mainly two types of models
Ownership: This model allows participants to own some of the panels or a share in the project. They get to benefit from all the power produced by their share of the solar panels or the system.

Subscription: This model allows participants to become subscribers and pay a lower price for the electricity sourced from the community solar farm. They do not own the panels—they just buy the power at a reduced rate.
Summary:
As ease with the concept of shared solar continues to increase, we may see more attention in developing such programs in states with restructured energy markets. Likewise, as consumers become more responsive of their energy options, we may see them influence their market power and drive retail suppliers to offer more renewable energy options, including shared renewables.
Community solar is becoming more and more popular in New York each year. In fact, in March of 2018 Governor Cuomo announced the completion of the largest community solar program in the state.  This will give energy players in NY more access to community solar projects and expand it further to benefit more communities.
Source: pickmy solar,  Rob Crauderueff – Crauderueff & Associates