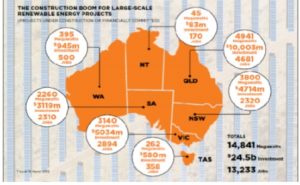 BY PADMA EDIRISINGHE
Australia is one of the major thermal coal producing countries in the world. Yet, Coal absorption on its energy mix is rapidly reshaped due to climate change goals and investors focus on clean energy. Knowing that financial markets and risk evaluation heavily influence Australia's energy market, the Australian government would urgently pay attention to  the very recent momentum showing 112 significant global financial institutions announcing an exit from coal financing.
In 2019 alone, there has been a major announcement every week from a significant investor shifting away from coal towards alternate renewable technologies and a carbon-free world.
On 22 May, BHP clearly stated they have "no appetite for any new investment in thermal coal, regardless of how lucrative those investments may be."
Also on Wednesday, Mizuho Financial Group of Japan tightened its coal financing policy to support a progressive reduction in carbon emissions.This follows five major financial institutions across Asia announcing plans over the last two months to move away from financing coal-fired power plants, further signalling this accelerating trend across the region.
Capital flight from thermal coal is accelerating, Australia and Globally.
Australia's three largest electricity generators, Energy Australia, Origin Energy and AGL, have all ruled out any involvement in new coal-fired plants.
The Reserve Bank of Australia and the Australian Prudential Regulatory Authority also recently sounded the alarm about the real and permanent consequences for the economy, business and financial markets if emissions are not reduced, warning of climate risk threatening Australia's financial stability.
Australia has a growing range of alternatives to thermal coal mining for regional employment and investment
Recent technological advances have made renewables one of the country's fastest growing industries, and Australia is already a world leader in battery storage installations, while zero emissions hydrogen exports look exceptionally promising.
At a state level, the integration of renewable electricity generation is already being achieved at a world-leading scale in the Australian Capital Territory, Tasmania and South Australia, with Victoria and Queensland recently lifting ambitions for 50% renewables by 2030 and, as a result, unlocking large-scale regional investment and employment opportunities.
Australia now has the opportunity to transition the State into a cleaner, more sustainable and affordable energy future. Investing in renewable energy infrastructure can build the State's engineering and scientific capacity, leverage financial capacity, and create thousands of jobs regionally for Australians
From a financial point of view, the deflationary low-cost renewable energy market is providing abundant opportunities for astute investors keenly aware of the global shift away from coal and carbon-emitting industries.
Australia is in a prime position to attract a wealth of renewable investment to replace the small percentage of thermal coal royalties the State attracts, not to mention the hidden costs in the form of externalities including air/particulate pollution, water shortages, carbon emissions and adverse health consequences.
Summary,
Australia's ambitions for 50% renewable by year 2030 to accelerate investment in renewables to create regional jobs would set an example for rest of the world. Also, clean and sound manner, Investors' rethinking on their capital investments in renewable energy sector would generate clean capital gain in their investments for many years to come.
Source: Guardian, IEEFA